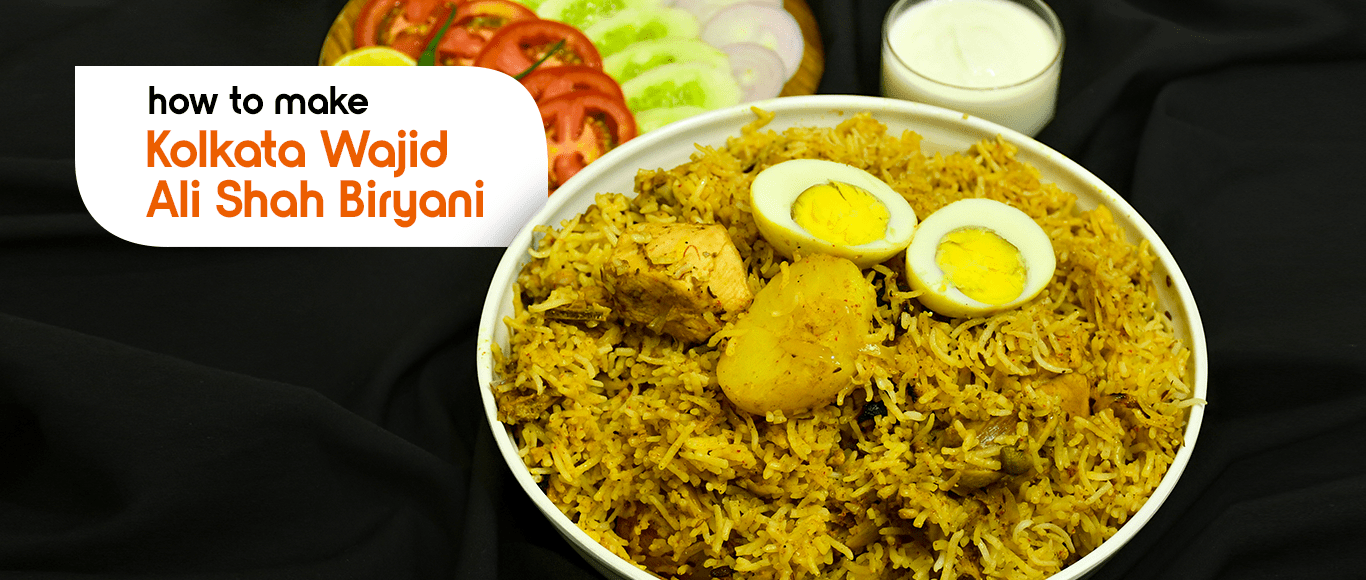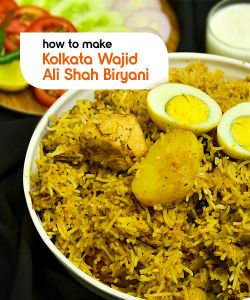 kolkata wajid ali shah biryani Recipe
Ingredients
for biryani masala

Coriander seeds (1 tbsp)
Shahi Jeera (1 tsp)
Cloves (5-6 )
Black cardamom ( 2)
Green cardamom (4-5 )
White pepper (1 tsp)
Black pepper (1 tsp)
Mace (1 blade)
Nutmeg (Small piece)
Bay leaf (2)
for marinating

Chicken Curry Cut (800 gm)
Yogurt (1 ½ cup)
Coriander powder (1 tbsp)
Red Chilli powder (½ tsp)
Turmeric Powder (A pinch)
Prepared Biryani Masala (2 tbsp )
Salt (to taste)
for chicken

Ghee (2-3 tbsp)
Boiled potatoes (2)
Eggs boiled (2 )
Bay leaf (2-3 )
Shahi Jeera (1 tsp)
Cloves (5-6 )
Cinnamon stick (1 inch)
Black cardamom (1 )
Green cardamom (3-4)
Onion sliced (2 )
Ginger garlic paste (1 tbsp)
for rice

Fortune biryani special basmati rice soaked (½ KG)
Cinnamon Stick (1 inch)
Shahi Jeera (1 tsp)
Bay leaf (1 )
Salt (1 )
to assemble

Prepared Biryani Masala (1 tsp +1 tsp)
Rose water (1 tbsp )
Sweet attar (1 tsp)
Ghee (1 tsp)
method
Dry roast Coriander seeds, Shahi Jeera, Cloves, Cinnamon, Black Cardamom, Green Cardamom, White pepper, Black pepper, Bay leaf, Mace, Nutmeg until fragrant.
Transfer to a mixture jar and grind coarsely. Keep the biryani masala aside.
Take Chicken in a mixing bowl, add Yogurt, Coriander powder, Red Chilli powder, Turmeric Powder, Prepared Biryani Masala, and Salt and mix well.
Keep the chicken to rest for 20-30 mins.
Heat ghee in a pan and fry potatoes and eggs till golden brown.
Remove and keep potatoes, eggs aside.
In the same pan add Bay leaf, Shahi Jeera, Cloves, Cinnamon stick, Black cardamom, Green cardamom and sauté for 1 mins
Add sliced onion and sauté for 4-5 mins until slightly brown.
Add Ginger garlic paste and sauté for 2 mins
Add the marinated chicken and mix well.
Cook the chicken for 10-12 mins.
Add the fried potatoes, eggs and sauté for 2-3 mins.
Remove the chicken from the flame and keep aside.
To make the rice boil water in a pan and add Cinnamon Stick, Shahi Jeera, Bay leaf, Salt and add the soaked rice.
Mix well and cook the rice till ¾ th done.
To assemble remove half the quantity of chicken in a separate bowl.
Layer half the quantity of rice over the chicken in the pan.
Layer remaining chicken over the rice.
Sprinkle 1 tsp Prepared Biryani Masala, 1 tsp saffron, sweet attar 1 tbsp, kewra water 1 tbsp, ghee 1 tbsp over the chicken.
Strain and layer remaining rice over the chicken.
Add the remaining saffron, Rose water, Sweet attar, Ghee and Prepared Biryani Masala.
Cover the pan and seal the edges with the dough.
Cook the biryani for 15-20 mins.
After 15-20 mins remove the biryani form the flame and open the lid.
Mix the biryani form the sides.
Serve the biryani with yogurt and salad on the sides.