Fortune Rawa
An Indian kitchen is incomplete without the goodness of semolina, whether it's a crispy and delectable rawa dosa or a flavorful rawa halwa. Bring home Fortune rawa to expand the diversity of your home-cooked meals! Fortune Rawa is made of whole wheat grain that has been granulated and processed. Semolina Rava has a slightly coarse texture compared to other types of flour, which gives it a unique flavour and mouthfeel. It is high in protein and gluten, which makes it a good ingredient for making pasta and bread as well. It is perfect for any savoury or sweet delicacy you want to serve to your family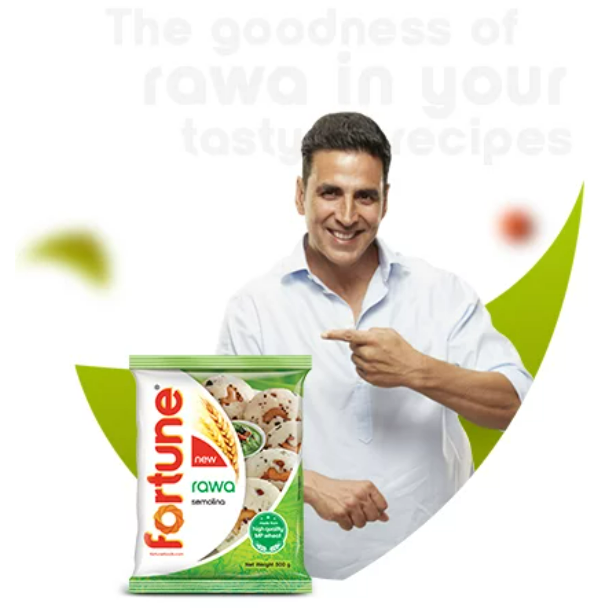 The flavour and goodness of rawa for your special dishes
Semolina rawa, also known as semolina flour or simply semolina or rava, is a type of flour made from husked wheat. It is commonly used in Indian and Mediterranean cuisine to make dishes like upma, halva, and pasta. Rava is a versatile ingredient that can be used in various dishes, and it adds a distinctive flavour and texture that is difficult to replicate with other types of flour. Wheat semolina is high in protein and gluten, which gives it a distinctive texture and a nutty flavor. It is also a good source of fiber and several important minerals, including iron, magnesium, and phosphorus.

Enjoy the taste and unique textures of rawa in your ghar ka khana, while continuing your cooking experiments with this ingredient.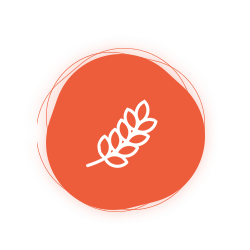 Made from the highest quality MP wheat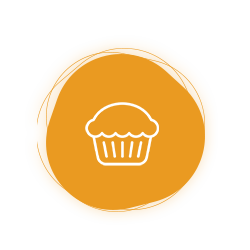 Perfect for sweets and breakfast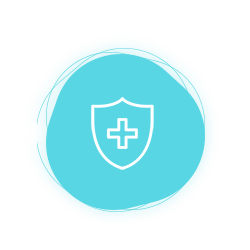 Untouched by hands & hygienically processed, ensuring purity
get your favourite rawa in this size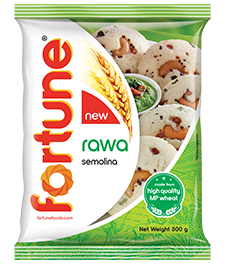 Frequently Asked Questions on Fortune Rawa
Is there a difference between Semolina Rava and Rawa?

No, there is no difference between Rava and Rawa. In Southern India, Semolina or Semolina Flour is known as Rava, while it is known as Rawa in Northern India. It is used to make savoury South Indian meals like rava dosa, rava idli, rava kichadi, and upma, which are also wonderful breakfast options, as well as sweets like halwa, laddoo, and so on.

What is Rava made of?

Rava, or Rawa, is prepared from the finest Durum wheat. It is a coarse flour prepared from durum wheat that has been pounded into minute granules called wheat semolina. Fortune Rawa has a significantly coarser texture than other varieties of flour, giving it a distinct flavour.

How is Rava made?

Rava, or Rawa, is made from durum wheat. The wheat is cleaned, tempered, and then passed through a series of rollers to remove the bran and germ, leaving behind the endosperm. The endosperm is then ground into a coarse powder, which is Rawa.

What is the nutritional value of Semolina?

Fortune Rawa is high in fibre, which aids digestion and prevents feeling hungry since it releases energy slowly. Semolina's potassium, magnesium, vitamins, and calcium content help improve kidney health, muscle health, and immunity. Thus, the benefits of Rawa hold extreme nutritional value.

What are some examples of Rawa-based foods?

The majority of Rawa-based dishes are simple and quick to create, as well as tasty. You can use Rawa to make kheer, upma, idli, dosa, uttapam, kesari, halwa, khichadi, pongal, rawa dhokla, ladoo, and a variety of other dishes.

Is Rava good for health?

Rawa is a good source of carbohydrates and fibre, and is also low in fat. It is high in protein and contains various essential vitamins and minerals such as iron, phosphorus, and magnesium, which help in maintaining good bone, heart, and brain health.

Is Rava good for weight loss?

Rawa can be a part of a healthy diet for weight loss. It is low in calories and high in protein and fibre which can keep you feeling full for longer periods of time.

Is Rava good for diabetes?

Yes. Rawa has a low glycemic index, meaning it doesn't cause a sudden spike in blood sugar levels. Moreover, it is rich in fibre, which slows down the digestion and absorption of carbohydrates in the body, preventing sudden blood sugar spikes.
it's time to try something new
Learn new recipes to delight your family with tasty home cooked meals
Suji | Rawa | Maida
(AB) - Adani Wilmar Limited, Bundi
Silor Road, Kota – Jaipur Highway, Distt. Bundi (Rajasthan)- 323001
FSSAI Lic No. 10012013000080
(AI) ADANI WILMAR LTD.,
Plot No. 93-144, Food Processing Park, Village- Nimrani, Distt. Khargone (Madhya Pradesh) – 451660
FSSAI Lic No. 10019026001528
(BR) BHAWANI ROLLER FLOUR MILLS LTD.,
C-38, Meerut Road Industrial Area, Distt. Ghaziabad (Uttar Pradesh) – 201003
FSSAI Lic No. 12716052000211
(VK) J P FOODS, Dhobapukur,
Singur, Distt. Hooghly (West Bengal) – 712124
FSSAI Lic No. 12822007000261
(KC) Kayess Flour Mills Pvt. Ltd.
Dulhipur near FCI godown, P.O. Dulhipur, P.S. Mughalsarai, Distt. Chandauli (Uttar Pradesh) – 232101
FSSAI Lic No. 12714039000125
(SM) Sapna Flour Mills Ltd.
Aminpur Nagraur, Balrampur Road, Bahraich (Uttar Pradesh) -271801
FSSAI Lic No. 12716025000056
(SP) S.P.R.L. Foods Ltd.
Chandanpur, Bansmahua, Sahson, Phulpur tahsil, Allahabad (Uttar Pradesh) – 221507
FSSAI Lic No. 12714005000729
(GW) GODAWARI INFRAESTATE PVT. LTD.
Khasra No. 455/456, Vill- Chijarsi Kulich Nagar, Pilkhuwa, Distt. Hapur (Uttar Pradesh) – 245304
FSSAI Lic No. 12721073000098
(CH) CHANDIGARH ROLLER FLOUR MILLS PVT. LTD.
Vill. Kheri Gurna, Banur-Tepla-Ambala highway, Banur, Distt. Patiala (Punjab) -140417
FSSAI Lic No. 12117681000032
(PM) PRESSANA FLOUR MILLS PRIVATE LIMITED UNIT NO-II,
Village: Kittampalayam, Block Sulur, Distt. Coimbatore (Tamilnadu) – 641659
FSSAI Lic No. 12418003004621
(FA) ANIRUDH FOODS LIMITED
Village Karwat, Post Dandi, Tehsil- Chandauli (Uttar Pradesh) -232101
FSSAI Lic No. 12714039000073
(UA) AMAR UNIVERSAL PRIVATE LIMITED
Plot No D-42, TTC Industrial Area Turbhe, MIDC New Mumbai, Turbhe Zone, New Mumbai Municipal Corporation(Thane Zone-3), MAHARASHTRA-400705,
GST NO:27AABCA8209R2Z6
FSSAI Lic No. 11521016000267
(GG) - GANESH GRAINS LIMITED
PLOT No. 59/A, EPIP INDUSTRIAL PARK, Pashamylaram, patencheru (M), Medak, Telangana – 502307
FSSAI Lic No. 13614007000473
(MD) - MAA DURGA FLOUR MILLS PRIVATE LIMITED
At – Kairapari, PO : Kotsahi, ,PS: Tangi, Cuttack (Execpt Municipal Corporation ) Orissa-754022
FSSAI Lic No. 12017007000202
(AV) - AVENT AGRO PVT LTD
F-1818, DSIDC Industrial Area, Narela, Delhi-110040, New Delhi, Delhi-110040
FSSAI Lic No.