Fortune Maida
Finely milled and refined to perfection, Fortune maida is the purest of its kind! Now, find your lachha parathas tastier and your dumplings softer. Made from the best quality wheat grains, this is a must-have for your kitchen. So, pick your maida online for delicious dishes that your dinner table awaits!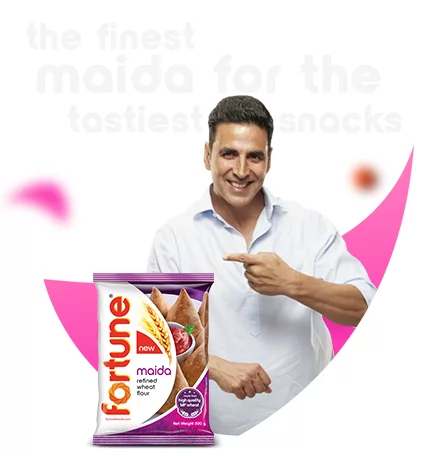 Give your Food the Twist of Fortune Maida
Add a rich taste to your ghar ka khana and those finger-licking fried food that your family loves to munch along with tea! Make your meals worth-it with tastier snacks, meals, dishes- you name it. Bring home this soft and refined maida flour and get cooking. Be it puris or spicy pakoras, let this high-quality refined wheat flour do the talking.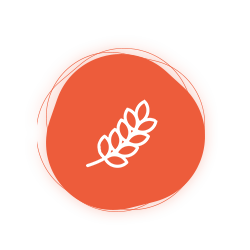 Made from the highest quality MP wheat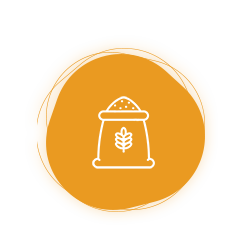 Soft and refined flour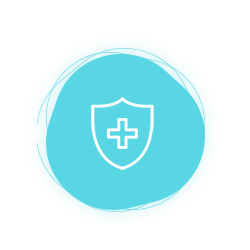 Untouched by hands & hygienically processed, ensuring purity
get your finest maida in this size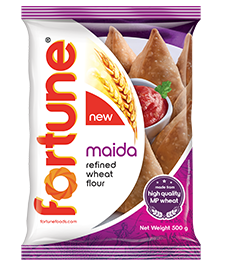 Grab Fortune Maida Online & Settle the Commotion at your Dinner Table!
Frequently Asked Questions on Maida
What is the difference between Atta and Maida?

Wheat flour contains germ, endosperm or wheat and husk bran whereas maida flour or refined wheat flour is just an endosperm of wheat grain. Also, maida is otherwise called all-purpose flour as it helps you make chapatis or even a cake.

What dishes can I make with Maida?

You can make some of the most delicious dishes with maida flour.

Bengali luchi (puri)
Margherita Pizza
Chocolate mug cake
Dumplings or momos
Chicken spring roll

And much more! And all these dishes taste even better with quality refined wheat flour just like Fortune's maida. If you want to find out more dishes made from maida, head over to our recipe page and start cooking.

Does Maida have Gluten?

No, Maida is full of gluten. So, besides dishes like cakes, bread, pastries, and biscuits, you can use maida atta for jalebis, ghewars, and more. Maida helps bind the dish together and works perfectly to give the item a desirable shape. 

How is Maida made?

Maida atta is made from the endosperm, that is, the starchy white part of the grain. Then, the bran is kept separate from the germ and endosperm and this is refined by passing through a sieve of 80 mesh per inch.
it's time to try something new
Learn new recipes to delight your family with tasty home cooked meals
Suji | Rawa | Maida
(AB) - Adani Wilmar Limited, Bundi
Silor Road, Kota – Jaipur Highway, Distt. Bundi (Rajasthan)- 323001
FSSAI Lic No. 10012013000080
(AI) ADANI WILMAR LTD.,
Plot No. 93-144, Food Processing Park, Village- Nimrani, Distt. Khargone (Madhya Pradesh) – 451660
FSSAI Lic No. 10019026001528
(BR) BHAWANI ROLLER FLOUR MILLS LTD.,
C-38, Meerut Road Industrial Area, Distt. Ghaziabad (Uttar Pradesh) – 201003
FSSAI Lic No. 12716052000211
(VK) J P FOODS, Dhobapukur,
Singur, Distt. Hooghly (West Bengal) – 712124
FSSAI Lic No. 12822007000261
(KC) Kayess Flour Mills Pvt. Ltd.
Dulhipur near FCI godown, P.O. Dulhipur, P.S. Mughalsarai, Distt. Chandauli (Uttar Pradesh) – 232101
FSSAI Lic No. 12714039000125
(SM) Sapna Flour Mills Ltd.
Aminpur Nagraur, Balrampur Road, Bahraich (Uttar Pradesh) -271801
FSSAI Lic No. 12716025000056
(SP) S.P.R.L. Foods Ltd.
Chandanpur, Bansmahua, Sahson, Phulpur tahsil, Allahabad (Uttar Pradesh) – 221507
FSSAI Lic No. 12714005000729
(GW) GODAWARI INFRAESTATE PVT. LTD.
Khasra No. 455/456, Vill- Chijarsi Kulich Nagar, Pilkhuwa, Distt. Hapur (Uttar Pradesh) – 245304
FSSAI Lic No. 12721073000098
(CH) CHANDIGARH ROLLER FLOUR MILLS PVT. LTD.
Vill. Kheri Gurna, Banur-Tepla-Ambala highway, Banur, Distt. Patiala (Punjab) -140417
FSSAI Lic No. 12117681000032
(PM) PRESSANA FLOUR MILLS PRIVATE LIMITED UNIT NO-II,
Village: Kittampalayam, Block Sulur, Distt. Coimbatore (Tamilnadu) – 641659
FSSAI Lic No. 12418003004621
(FA) ANIRUDH FOODS LIMITED
Village Karwat, Post Dandi, Tehsil- Chandauli (Uttar Pradesh) -232101
FSSAI Lic No. 12714039000073
(UA) AMAR UNIVERSAL PRIVATE LIMITED
Plot No D-42, TTC Industrial Area Turbhe, MIDC New Mumbai, Turbhe Zone, New Mumbai Municipal Corporation(Thane Zone-3), MAHARASHTRA-400705,
GST NO:27AABCA8209R2Z6
FSSAI Lic No. 11521016000267
(GG) - GANESH GRAINS LIMITED
PLOT No. 59/A, EPIP INDUSTRIAL PARK, Pashamylaram, patencheru (M), Medak, Telangana – 502307
FSSAI Lic No. 13614007000473
(MD) - MAA DURGA FLOUR MILLS PRIVATE LIMITED
At – Kairapari, PO : Kotsahi, ,PS: Tangi, Cuttack (Execpt Municipal Corporation ) Orissa-754022
FSSAI Lic No. 12017007000202
(AV) - AVENT AGRO PVT LTD
F-1818, DSIDC Industrial Area, Narela, Delhi-110040, New Delhi, Delhi-110040
FSSAI Lic No.