Fortune Suji
Whether you are looking to make traditional South Asian dishes or experiment with new recipes, Fortune Suji is a great ingredient to have in your pantry. It can be easily adapted to numerous styles of cuisine. It also has a distinct texture that is both crunchy and soft, making it an intriguing complement to a variety of meals. With the rich grains of Fortune Suji, you may enhance the taste and texture of your home-cooked dishes and delight your family.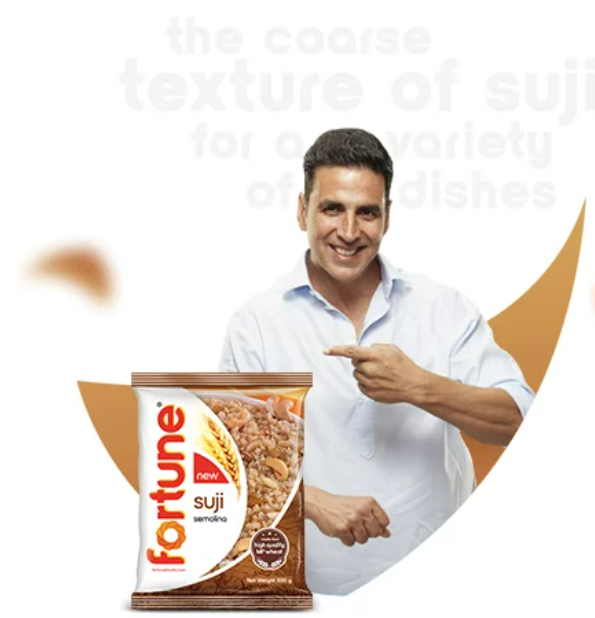 Enjoy the natural taste of Suji in your recipes
Sweet or savoury, Fortune Suji is just your companion for making a wide variety of mouth-watering delights! Now you can indulge in cooking and enjoy all of them with Fortune's high quality suji. Suji, or Semolina, is often used in Indian cooking to prepare a variety of foods. Because of its distinct texture and capacity to absorb liquids, suji rava is frequently used as a flour alternative in dishes. It is rich in iron, which is essential for healthy blood circulation, and it also contains vitamin B6, which is important for brain function and the nervous system.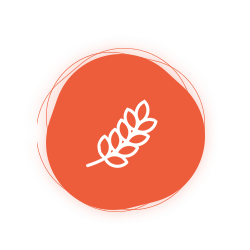 made from the highest quality MP wheat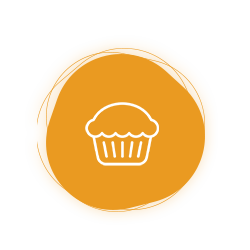 Perfect for sweets and breakfast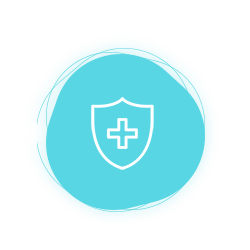 untouched by hands & hygienically processed, ensuring purity
get the purest suji in this size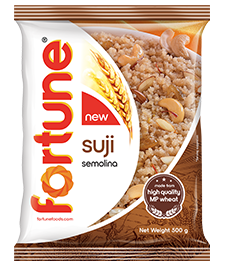 Frequently Asked Questions on Suji
What is Sooji made of?

Suji is a versatile ingredient that can be used for breakfast, lunch, dinner or snacks. Commonly known as sooji or semolina, suji is a coarse flour prepared from durum wheat.

Which is better: Suji or Atta?

Nutritionists prefer suji over atta as it is produced from rough, coarsely crushed whole wheat making it lighter on the stomach and more easily digestible.

What are the health benefits of Suji?

Suji Rava is a nutritious ingredient with numerous advantages. It has a high protein content and a low-fat content. As a result, it may help you lose weight, lower cholesterol, and improve your heart health.  Having high quantities of vitamins and minerals is another one of the health benefits of suji.

What kinds of dishes can I make with Fortune Suji?

You can make upma, halwa, idli, dosa, porridge, cakes, and kheer using Fortune Suji. These are just a few examples of dishes you can make with sooji. You can also use it to make pancakes, bread, and even pizza crusts. Get creative and experiment with different recipes to find your favourite dishes.

Is Suji good for diabetes?

Because of its higher nutritional value, suji is a healthy alternative for those with diabetes. It includes fibre which helps maintain blood glucose levels in the body. A fibre-rich diet aids in the management of blood sugar levels after meals.

Is Suji good for weight loss?

Suji can be a healthy addition to a weight-loss diet. It is low in fat and calories but high in protein and fibre, making you feel full and satisfied for longer. Additionally, suji has a low glycemic index, meaning it doesn't cause a rapid spike in blood sugar levels which can lead to cravings and overeating.

Is Suji gluten-free?

No, suji is not gluten-free, as it is made from wheat. It is a type of semolina flour made from durum wheat, which contains gluten, making it one of the disadvantages of eating suji.

Are there any disadvantages of eating suji?

Yes, there can be certain disadvantages of eating suji:

High in gluten: Suji is not gluten-free, which can cause digestive issues for people who are sensitive to gluten or have celiac disease.

High in carbs: Being rich in carbohydrates, excess consumption of Suji can lead to weight gain.

How is suji made using wheat grains?

The following 3 steps constitute the procedure of how suji is made from wheat:

Step 1: Cleaning the grains – Any dust particles, husk, or tiny stones are removed from the wheat grains. Thereafter, Bran is separated from Endosperm.

Step 2: Crushing (Milling) – Endosperm is then crushed into flour, intermediate particles and coarse particles.

Step 3: Reduction (Filtering) – As per different filters and requirements, these particles are separated to form different types of

Suji

or

Suji Rava

.
Suji | Rawa | Maida
(AB) - Adani Wilmar Limited, Bundi
Silor Road, Kota – Jaipur Highway, Distt. Bundi (Rajasthan)- 323001
FSSAI Lic No. 10012013000080
(AI) ADANI WILMAR LTD.,
Plot No. 93-144, Food Processing Park, Village- Nimrani, Distt. Khargone (Madhya Pradesh) – 451660
FSSAI Lic No. 10019026001528
(BR) BHAWANI ROLLER FLOUR MILLS LTD.,
C-38, Meerut Road Industrial Area, Distt. Ghaziabad (Uttar Pradesh) – 201003
FSSAI Lic No. 12716052000211
(VK) J P FOODS, Dhobapukur,
Singur, Distt. Hooghly (West Bengal) – 712124
FSSAI Lic No. 12822007000261
(KC) Kayess Flour Mills Pvt. Ltd.
Dulhipur near FCI godown, P.O. Dulhipur, P.S. Mughalsarai, Distt. Chandauli (Uttar Pradesh) – 232101
FSSAI Lic No. 12714039000125
(SM) Sapna Flour Mills Ltd.
Aminpur Nagraur, Balrampur Road, Bahraich (Uttar Pradesh) -271801
FSSAI Lic No. 12716025000056
(SP) S.P.R.L. Foods Ltd.
Chandanpur, Bansmahua, Sahson, Phulpur tahsil, Allahabad (Uttar Pradesh) – 221507
FSSAI Lic No. 12714005000729
(GW) GODAWARI INFRAESTATE PVT. LTD.
Khasra No. 455/456, Vill- Chijarsi Kulich Nagar, Pilkhuwa, Distt. Hapur (Uttar Pradesh) – 245304
FSSAI Lic No. 12721073000098
(CH) CHANDIGARH ROLLER FLOUR MILLS PVT. LTD.
Vill. Kheri Gurna, Banur-Tepla-Ambala highway, Banur, Distt. Patiala (Punjab) -140417
FSSAI Lic No. 12117681000032
(PM) PRESSANA FLOUR MILLS PRIVATE LIMITED UNIT NO-II,
Village: Kittampalayam, Block Sulur, Distt. Coimbatore (Tamilnadu) – 641659
FSSAI Lic No. 12418003004621
(FA) ANIRUDH FOODS LIMITED
Village Karwat, Post Dandi, Tehsil- Chandauli (Uttar Pradesh) -232101
FSSAI Lic No. 12714039000073
(UA) AMAR UNIVERSAL PRIVATE LIMITED
Plot No D-42, TTC Industrial Area Turbhe, MIDC New Mumbai, Turbhe Zone, New Mumbai Municipal Corporation(Thane Zone-3), MAHARASHTRA-400705,
GST NO:27AABCA8209R2Z6
FSSAI Lic No. 11521016000267
(GG) - GANESH GRAINS LIMITED
PLOT No. 59/A, EPIP INDUSTRIAL PARK, Pashamylaram, patencheru (M), Medak, Telangana – 502307
FSSAI Lic No. 13614007000473
(MD) - MAA DURGA FLOUR MILLS PRIVATE LIMITED
At – Kairapari, PO : Kotsahi, ,PS: Tangi, Cuttack (Execpt Municipal Corporation ) Orissa-754022
FSSAI Lic No. 12017007000202
(AV) - AVENT AGRO PVT LTD
F-1818, DSIDC Industrial Area, Narela, Delhi-110040, New Delhi, Delhi-110040
FSSAI Lic No.