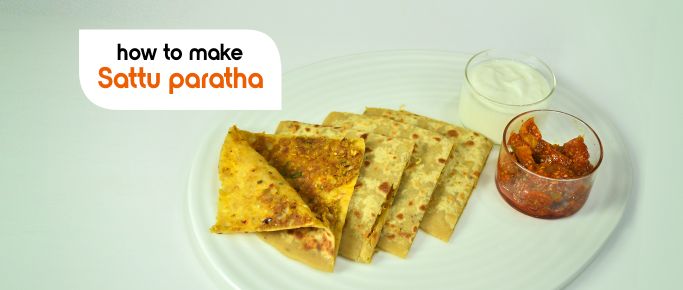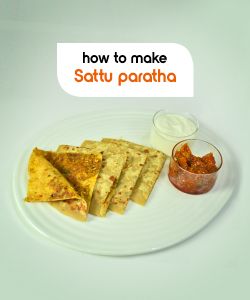 sattu paratha Recipe
Ingredients
for filling

Sattu flour (1 cup)
Onion Chopped (1 Large)
Chili flakes (1 tsp)
Green chilli chopped (2-3)
Garlic Chopped (4-5 Cloves)
Ginger Chopped (1 inch)
Salt (to taste)
Red Chilli Powder (1/2 tsp)
Coriander powder (1 tsp)
Turmeric Powder (1/4 tsp)
Garam Masala Powder (1/4 tsp)
Fortune Kachi Ghani Pure Mustard Oil (1 ½ Tbsp)
for dough

Fortune Chakki Fresh Atta (3 cups)
Salt (to taste)
Carom seeds (1 tsp)
Boiled potatoes (2 small)
method
To prepare the filling take in a mixing bowl add Sattu flour, Onion, Chili flakes, Garlic, Green chilli, Ginger, Salt, Red Chilli Powder, Coriander powder, Turmeric Powder, Garam Masala Powder, Fortune Kachi Ghani Pure Mustard Oil, and mix well. Keep the filling aside.
In another mixing bowl add Fortune Chakki Fresh Atta, salt, carom seeds and grate boiled potatoes.
Mix well and using water as required knead to a paratha dough.
Cover with moist muslin cloth and keep the dough to rest for 15- 20 mins.
After 15-20 mins take a large portion from the dough and using your fingers flatten to make a pocket.
Take a spoonful of the filling and place in the centre.
Press the filling well and seal the edges to shape into a ball.
Sprinkle flour on the chopping board and place the ball.
Gently flatten the ball and using a rolling pin, roll to make a paratha.
Heat a tawa and place the paratha on the tawa and Cook well from both sides.
Add 1 tbsp of butter on both sides and cook the paratha till golden brown.
Remove the paratha on a chopping board and cut into quarters.
Place the paratha slices on a serving plate and serve with pickle and yogurt on the side.