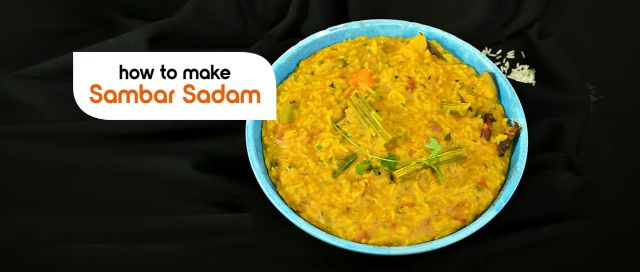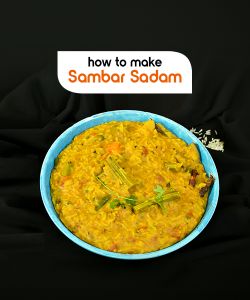 sambar sadam Recipe
Ingredients
Fortune Rozana Basmati Rice ( 1 cup)
Fortune Arhar Dal (1 cup)
Salt (to taste)
Turmeric powder ( ½ tsp)
Fortune rice bran oil ( 1 Tbsp)
Cumin seeds (1 tsp)
Mustard seeds ( 1 tsp)
Urad dal ( 1 tsp)
Chana dal (1 tsp)
Asafetida (¼ tsp)
Dry Red Chilli Whole (2-3)
Curry leaves (12-15)
Onion chopped (1)
Tomato chopped (2)
Potatoes cut into cubes (1)
Carrot cut into cubes (1)
Eggplant cut into cubes (1)
Drumsticks (1)
Shallots (10-12)
French beans (4-5)
Capsicum cut into cubes (½)
Red chilli powder (1 tsp)
Coriander powder (1 ½ tsp)
Turmeric powder (½ tsp)
Sambar powder (2 ½ tsp)
Tamarind pulp (1 cup)
Coriander chopped (1 Tbsp)
method
Wash and soak rice and dal in two separate bowls for 15 -20 mins.
After 15 to 20 mins, add the rice, dal, salt, water as required, turmeric powder in the pressure cooker and pressure cook for 4 whistles. Let the pressure cooker cool to room temperature.
Heat Fortune Rice Bran Oil add Cumin seeds, Mustard seeds, Urad dal, Chana dal sauté till mustard seeds splutter.
Add asafetida, dry red chilli, curry leaves, onion and sauté for 1 mins.
Add tomatoes, salt, and sauté for 2 mins.
Add Potato, Carrot, Eggplants, Drumsticks saute for 4-5 mins.
Add Shallots, French beans, Capsicum, Red chilli powder, Coriander powder, Turmeric powder, Sambar powder and mix well.
Add water as required and mix well
Cover and cook for 10-12 mins.
Meanwhile open the pressure cooker and mash the dal and rice well.
Add tamarind pulp and cook for 2 mins.
Add the dal rice mixture to the pan and mix well.
Check the consistency if required add water to correct it.
Add chopped coriander and mix well.
Transfer to a serving bowl and garnish with coriander sprig.
Serve hot.