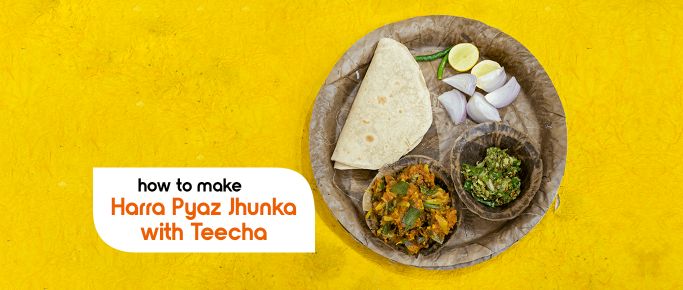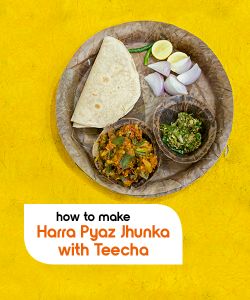 harra pyaz jhunka with teecha Recipe
Ingredients
for jhunka

Spring Onion (6-7)
Fortune Rice Bran Health Oil (2-3 Tbps)
Ginger chopped ( 1 Tbsp)
Garlic chopped (1 Tbsp)
Green chilli chopped ( 1 tbsp)
Tomatoes (2)
Salt (To taste)
Coriander powder ( 1 tbsp)
Turmeric powder ( 1 tsp)
Red chilli powder ( 1 tsp)
Fortune besan (3 tbsp)
Coriander chopped (1 tbsp)
For Teecha

Garlic clove ( 10-12)
Green chilli ( 12-15)
Salt ( to taste)
Cumin seeds ( 1 tsp)
Fortune Rice Bran Health Oil ( 1 tbsp)
Lemon juice ( 1/4)
method
Trim and Slice spring onions and keep aside. Preserve the greens.
HeatFortune Rice Bran Health Oil  in a pan and add garlic, ginger, green chilli sauté for 1 mins.
Add sliced spring onions and mix well.
Meanwhile Chop the spring onion greens, tomatoes and keep aside.
Add the tomatoes, salt, and saute for 3-4 mins.
Add coriander powder, turmeric powder, red chilli powder, and saute for 1-2 mins
Add spring onion greens, and sauté for 1-2 mins.
Add Fortune Besan and mix well.
Add coriander chopped and mix well.
Cover and cook for 2-3 mins.
Meanwhile for thecha take garlic cloves, green chilli, and salt in a mortar pestle and crush well.
Heat Fortune Rice Bran Health Oil  in another pan add cumin seeds and saute for 30 secs
Add thecha  and saute for 1-2 mins.
Remove from flame and squeez ¼ lemon. Mix well.
Serve Jhunka and thecha   with rotis.