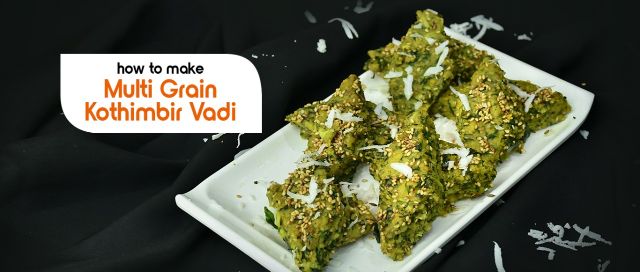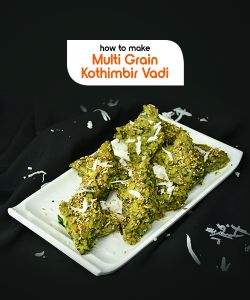 multi grain kothimbir vadi Recipe
Ingredients
Water (2 cups)
Asafetida (a pinch)
Sesame Seeds (2 Tbsp)
Coriander Powder (1 tsp)
Turmeric Powder (1/2 tsp)
Cumin seeds (1 tsp)
Curry Leaves (6-8)
Coconut grated (2 Tbsp)
Green Chilli Garlic Paste (2 Tbsp)
Salt (to taste)
Bajra Flour (1 Tbsp)
Jowar Flour (1 Tbsp)
Fortune Besan (1 Cup)
Rice Flour (1 Tbsp)
Spinach Chopped (1 Bunch)
Coriander leaves chopped (2 Cups)
Fortune Refined Sunflower Oil (to grease + shallow fry)
For tempering

Asafetida (a pinch)
Cumin Seeds (1 tsp)
Sesame Seeds (1 Tbsp)
Curry leaves (10-12)
Grated Coconut (for garnish)
method
Heat 2 cups of water in a pan and add, asafetida, Sesame Seeds, Coriander Powder, Turmeric Powder, Cumin seeds, Curry Leaves, Coconut grated, Green Chilli Garlic Paste, salt and mix well.
In a mixing bowl add Bajra Flour, Jowar flour, Fortune Besan, Rice Flour and mix well.
Add spinach, coriander leaves chopped to the pan and mix well.
Add the flour mixture to the pan and whisk well to make a homogenous mixture.
Turn off the flame and grease a silicon mould with Fortune Refined Sunflower Oil.
Transfer the mixture to the Silicon mould and spread evenly.
Refrigerate the mixture for two hours for it to set.
After 2 hours heat Fortune Refined Sunflower oil to shallow fry.
Meanwhile demould the vadi mixture and cut into diamonds.
Shallow fry the kothimbir vadi till crisp from both sides.
Remove on an absorbent paper and keep aside.
Transfer and heat 1 tbsp oil in another pan for tempering.
Add asafetida, cumin seeds, sesame seeds, and curry leaves, and sauté for 1 min
Add the fried kothimbir vadi to the pan and coat the tempering well.
Remove from heat and transfer to a serving plate.
Garnish with grated coconut and serve.