Fortune Unpolished Moong Dal
Made from high-quality lentils, this unpolished variety retains its natural nutrients, making it a
wholesome addition to your meals. With its rich flavour and high protein content, this Moong
ki Dal is perfect for adding a nutritious and delicious touch to your culinary creations.
Experience the finest quality and taste that Fortune Moong Dal has to offer.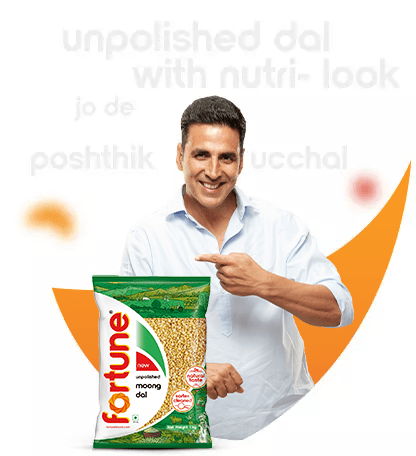 Add a Nutritious and Flavorful Twist to Your Meals
These carefully selected and unpolished lentils retain their natural nutrients, offering you a wholesome addition to your daily diet. Whether you're preparing a hearty soup, a satisfying curry, or a refreshing salad, Fortune Moong Dal adds a delicious twist that will delight your taste buds and nourish your body. Order this dal now and infuse your dishes with wholesome nutrition and irresistible taste.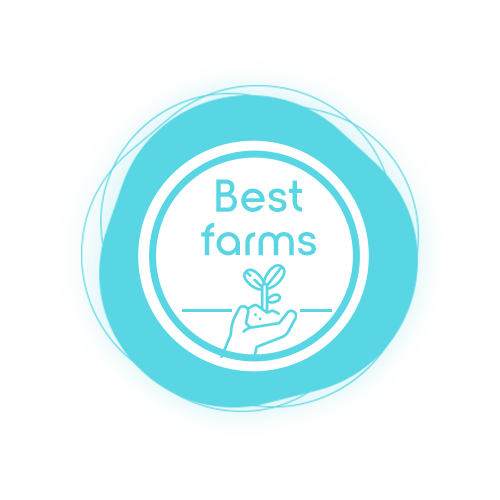 Best Farms- Sourced from best of the farms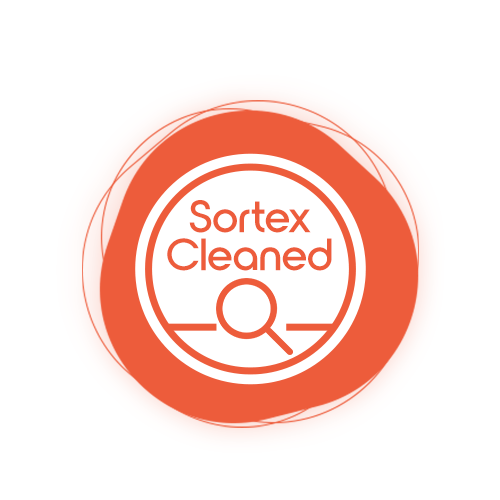 Sortex Cleaned- Free of any impurities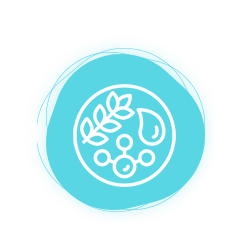 Nutritional Powerhouse- Rich source of plant-based protein, dietary fibre, vitamins, and minerals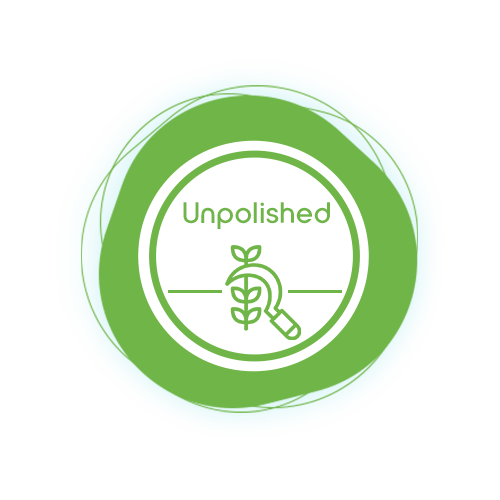 Unpolished- For authentic taste and nutritional value
Enjoy unpolished Fortune Moong Dal in 2 sizes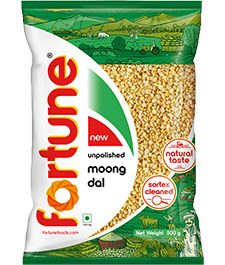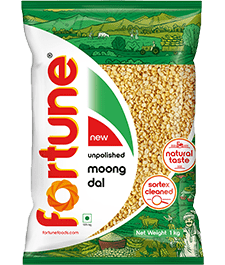 Frequently Asked Questions on Moong Dal
What are the Moong Dal benefits for health?

Moong Dal nutrition profile is wholesome. It is a high-quality plant-based protein
source, promoting digestion with its fibre content. It even provides essential iron for
energy and is heart-friendly due to its low fat and cholesterol content. Moreover, it

helps boost immunity with its natural antioxidants and thus, aids your overall well-
being and supports a healthy lifestyle.

How to incorporate Moong dal for weight loss in your diet?

Moong dal nutritional value makes it an excellent choice for individuals seeking to
focus on their weight management goals. To incorporate Moong dal for weight loss,
you can try it in various forms such as soups, salads, sprouts, curries, or in dosa. It
offers a low-calorie, high-protein option to keep you satisfied while promoting weight
loss.

What is the Moong Dal protein content per 100 grams?

The protein content of Moong Dal is approximately 24 grams per 100 grams. This
makes it an excellent plant-based protein source, especially for those following
vegetarian or vegan diets.

How many Moong Dal calories are there in a serving?

One cup of Moong Dal is approximately 147 calories. The calorie count may vary
depending on factors such as serving size and preparation method.

How to cook Moong Dal curry?

To prepare Moong Dal curry, start by rinsing it thoroughly and soak it in water for
about 30 minutes to 1 hour to reduce cooking time. Drain the soaked dal and add it to
a pot with fresh water about 3 cups the amount of dal. Bring the water to a boil, then
reduce the heat to low and let it simmer for approximately 20-25 minutes or until the
dal is tender. Add spices, salt, and seasonings and serve with freshly made chapati
or even rice.

What is theMoong Dal price per kg?

Fortune Moong dal is priced at Rs. per 500 gm pack and Rs. per 1kg pack.

Are there any other Unpolished Pulses offered by Fortune?

Absolutely! Fortune Foods offers a range of Unpolished Pulses such as Arhar Dal,
Rajma Chitra, Kala Chana, Kabuli Chana and many more.