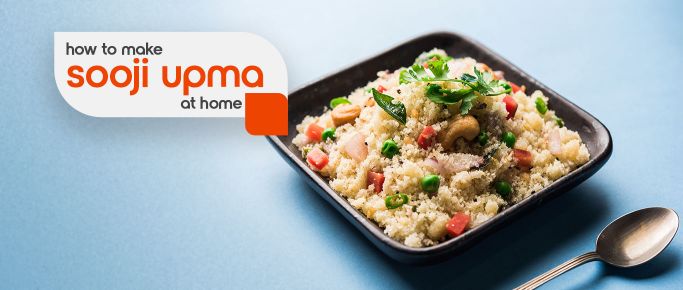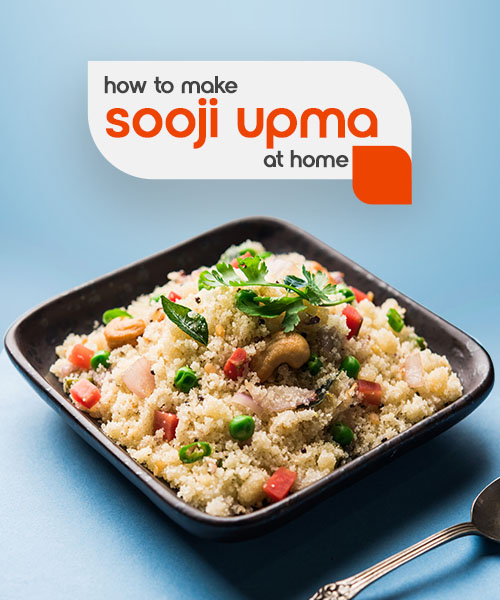 fortune sooji upma Recipe
Ingredients
Sooji (1/2 cup)
fortune vivo pro sugar conscious oil (2 tbsp)
Black mustard seeds (1/2 tbsp)
Cumin seed (1/2 tsp)
Diced green pepper (1)
Green peas (1/4 cup)
Peanuts (2 handfuls)
Water (1 1/4 cup)
Freshly squeezed lemon juice (1/2 tsp)
Chopped cilantro or parsley (2 tbsp )
Salt to your taste (1/2 tsp)
Fortune Oil (1 tbsp)
method
First boil green peas in water.
As the water comes to a boil, turn heat to low and cook peas till soft and set aside.
Heat oil in a saucepan.
Check heat by adding cumin seeds to the oil; if it crackles right away, oil is ready. Add in black mustard and cumin seeds.
As they crackle, add peanuts and stir for a bit.
Pour in sooji and stir-fry on medium heat till it turns golden. Also add in salt as per taste.
Now add in those green peas with water a little at a time.
Pour in the lemon juice and cover for 2 mins.
Don't overcook, the sooji should soak in the water leaving the upma moist.
Garnish with cilantro or parsely.

Learn more about similar recipes along with unique cooking techniques that will take your cooking from Good to Great.