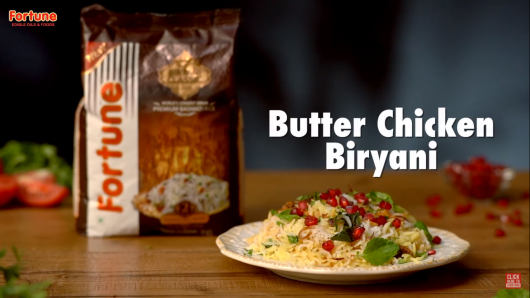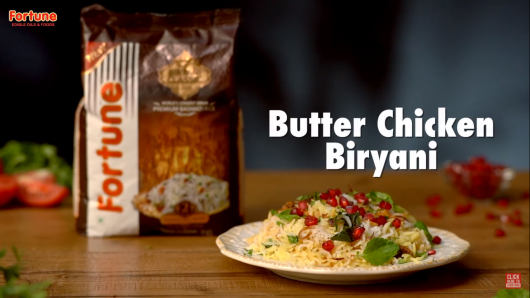 fortune butter chicken biryani Recipe
Fortune Classic Basmati Rice (2 cups)
Water
Soaked Rice
Bay Leaf (1)
Cinnamon Sticks (2)
Cloves (3)
Peppercorns (10)
Salt (To taste)
Biryani

Soaked Rice
Fortune Sunlite Sunflower oil (2 tbsp)
Butter chicken gravy (2 cups)
Cooked rice (4 cups)
Saffron milk (1/4 cup)
Fried onions (2 tbsp)
Mint leaves (For garnish)
Coriander leaves (1 tbsp)
Kewra water (1/2 tsp)
method
1. Wash and soaked Fortune Biryani Classic Basmati Rice for 15-20 minutes.

2. Heat water in kadai or in any deep bottom pan add whole spices and salt. Bring the water to boil.

3. Add soaked rice and cook till 90% strain the rice and keep aside.

4. Heat Fortune Sunflower oil in a kadai add butter chicken gravy bring it to boil. Add the cooked rice over the gravy.

5. Pour saffron milk over the rice. Sprinkle fried onion, mint leaves and coriander leaves. Pour kewra water and cover the Biryani and cook it on slow flame for 5-7 minutes.

6. Serve hot.