Fortune Soya Mini Chunks
Small Soya Chunks, Huge Protein Potential! Packed with the goodness of 15X more protein than milk, Fortune Soya Mini Chunks are the perfect addition to your kids' lunches and snacks. Mini soya chunks are nutritious and versatile that can be enjoyed in a variety of dishes. They are a popular ingredient in many Indian and South Asian dishes and are known for their high protein content and meat-like texture.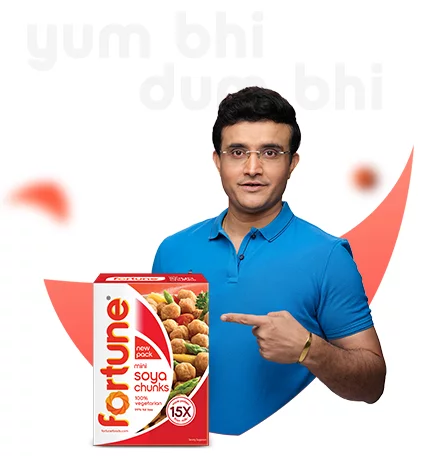 All the goodness of Soya, easy to cook mini sizes!
Spearheading the health revolution, yumdaar and dumdaar Fortune Soya Wadi is available in 3 variants- Soya Chunks, Mini Chunks and Soya Granules. With 52% protein content, these soft and delicious soy nuggets are a powerhouse for your body. Soya Mini Chunks are also rich in essential amino acids, vitamins, and minerals, making them a nutritious complement to your diet. Additionally, they are also low in carbohydrates and contain no cholesterol or saturated fat, making them a healthy and nutritious addition to any meal.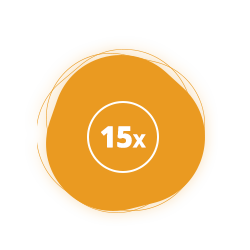 It has 15 times more protein than milk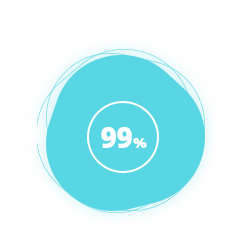 99% fat free
your go to soya mini chunks, in this size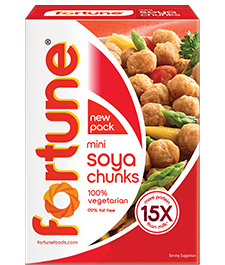 know your soya chunks
Frequently Asked Questions
What exactly are Soya Mini Chunks? What are their benefits?

Soya Mini Chunks, also known as soy nuggets or soy granules, are a defatted soy flour-based vegetarian and vegan meat alternative. They are a rich source of protein and fibre, and low in fat, making them good for heart health. These small soya chunks are very versatile and can be used in a wide range of dishes, from soups and stews to burgers and meatballs.

Is it true that mini Soya Chunks have the greatest protein level of any vegetarian food?

Yes, mini Soya Chunks pieces contain 52% plant-based protein, the most plant-based protein in any vegetarian food item.

How to cook Fortune Soya Mini Chunks?

When cooking with Soya Mini Chunks, it's important to rehydrate them properly before use. This can be done by soaking them in hot water or broth for 10-15 minutes, or by simmering them in a liquid for a few minutes. Once rehydrated, they can be added to dishes just like any other protein source.

Are there any good recipes for Soya Mini Chunks?

Soya Mini Chunks can be used in a wide range of recipes. You can make soya chunks curry, soya chunks biryani, kebabs, soya chunk stir fry, you can also infuse it into any dish to replace meat. Also, feel free to visit our Recipe Page to find some of your favourite recipes.

How much protein does Soya Chunks have?

Soya chunks, also known as soy protein nuggets, have a high protein content of approximately 50-55 grams per 100 grams of dry product.

What is Soya Chunks made of?

'Soya chunks' is a vegetarian meat substitute made from defatted soy flour, which is a byproduct obtained during soybean oil extraction.

Is Soya Chunks veg or non-veg?

Made from defatted soy flour, a natural source of plant-based protein, Fortune Soya Chunks are 100% vegetarian and can be included in vegan diets.

Is Soya Chunks good for health?

Soya chunks, made from defatted soy flour, are high in protein, fibre, and other essential nutrients like iron and calcium. Soya chunks are also low in fat and carbohydrates, which can benefit weight management. Fortune Soya Chunks contains all nine essential amino acids to help boost immunity.

Is Soya Chunks good for weight loss?

Being low in fat and calories while rich in protein and fibre, Soya Chunks are a useful addition to a weight loss diet. They help reduce hunger pangs and promote feelings of fullness, which helps reduce the overall calorie intake.

Is Soya Chunks good for males?

Absolutely! Soya Chunks are suitable for both males and females. For males, the recommended daily intake of soya chunks is around 25-30 grams, whereas for females, it is around 15-20 grams. It can be a nutritious addition to a balanced diet for both men and women.
world of fortune mini soya chunks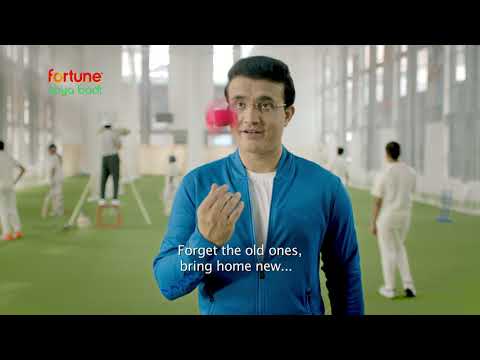 Switch to Fortune Soya Chunks | Protein-rich and Untouched by Hand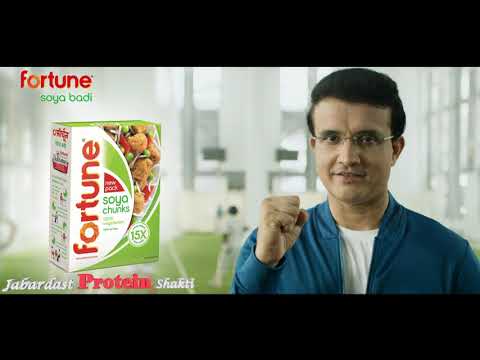 Making of Fortune Soya Chunks TVC with Sourav Ganguly | Fortune Soya Chunks
Soya Chunks
(AH) - Adani Wilmar Limited, Haldia
JL No. 149, Debhog, HPL Link Road, Haldia,Purba Medinipur 721657, West Bengal India
FSSAI Lic No. 10012031000073
(KF) - Khub Ram Foods (P.) Ltd, Kanpur
845, Kha Min Sachendi & 770 Sachendi Kanpur Nagar Kanpur Tahsil, Kanpur Nagar 208020, Uttar Pradesh India
FSSAI Lic No. 10021051000103
(VA) - Adani Wilmar Limited, Vidisha
Soya Complex, Sanchi Road, Vidisha 464001, Madhya Pradesh India
FSSAI Lic No. 10012026000265