Fortune Soya Granules
Fortune Soya Granules are a type of soy-based product that are typically used as a meat substitute in vegetarian and vegan dishes. Soya granules are made by processing soybeans into a high-protein, low-fat product that has a texture similar to ground meat. They are often used as a vegetarian alternative to dishes such as spaghetti sauce, Indian curries, and tacos. Some popular recipes that use soy granules include soya keema, soya burgers, and soya biryani. It's time to savour the flavour of soyabean granules packed with protein power.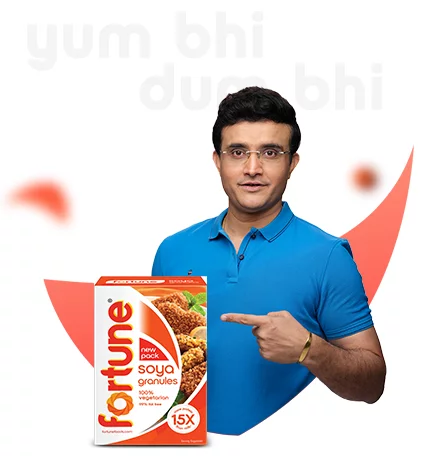 Soya Granules - The Powerhouse of your body
Spearheading the health revolution, yumdaar and dumdaar Fortune Soya Badi is available in 3 variants - Soya Chunks, Mini Chunks and Soya Granules. With 52% protein content, these soft and delicious nuggets are a powerhouse for your body. Soya chunk granules are high in protein, fibre, and a variety of vitamins and minerals, including iron and calcium. Also, soybean granules are low in fat and calories, making them an excellent choice for anyone wishing to minimise their consumption of meat or animal products.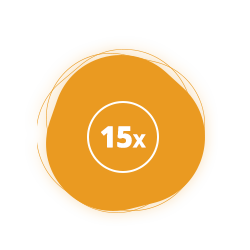 It has 15 times more protein than milk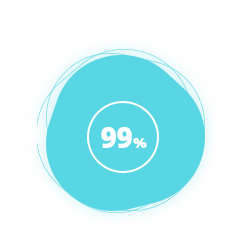 99% fat free
get your dose of soya granules in this size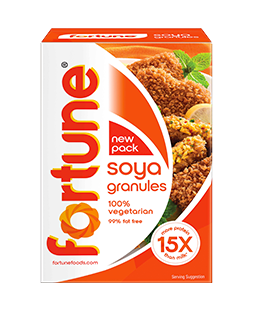 know your soya chunks
Frequent questions answered by those that bring you this product
What are soya granules?

Soya granules, also known as soy granules, are a form of plant-based protein manufactured from defatted soy flour. They can be used to prepare a wide range of soya meals, from breakfast to snacks to main dishes. Other names for them include soya badi, soybean badi, soya wadi, soya bari, and soya nugget.

Is there any difference between soya chunks and soya granules?

Yes, there is a difference between soya chunks and soya granules. Soya chunks are larger in size and have a meat-like texture, while soya granules are smaller in size and have a grainy texture. Chunks are commonly used as a meat substitute in various dishes, while Granules are often used as a filler in dishes such as burgers or as a vegetarian alternative to ground beef.

What types of dishes are made with Fortune Soya Granules?

Soyabean Granules can be used in a range of breakfast, snack, main dish and dessert recipes. Soya biryani, kebabs, curries, pulao, cutlets, paratha, samosas, and tikka are just a few dishes that are not only delicious but also simple to make. You can buy soya online and start making delicious soya dishes right away.

How to cook Fortune Soya Granules?

To cook Soy granules, place the soya granules in a pot of boiling water. Soak the soya granules in hot water for 10-15 minutes or until soft and fluffy. You can then incorporate it into your favourite cuisine.

Can soya granules be eaten every day?

Yes, soya granules can be consumed on a daily basis. A safe amount of soybean granules per day is approximately 25-30 grams, but remember to take it only in moderation.

What are the benefits of Soya Granules? Why should I buy Fortune Soya Granules?

Fortune Soya Granules are a rich protein, fibre, iron, and calcium source. They are low in fat and carbohydrates, and this product is also free from cholesterol and gluten, which makes it suitable for people with dietary restrictions. Fortune Soya Granules is a nutritious and convenient option for vegetarians, vegans, and anyone looking for a healthy source of protein in their diet.

Are Soya Granules vegetarian?

Yes, soya chunks granules are 100% vegetarian and manufactured from soya, a natural source of plant-based protein.

How much protein in Soya is beneficial for health?

The protein content in soya granules can vary depending on the brand and preparation method, but on average, there is 52g-54g of soybean protein per 100g of soya granules.

The recommended daily protein intake varies based on age, gender, and activity level. However, consuming 0.8g of protein per kg of body weight per day is considered sufficient for most adults.

Are there any side effects of Soya Granules?

Soyabean granules are made from defatted soy flour and are generally considered safe for most people when consumed in moderate amounts.

How can I incorporate soya nutrition into my diet?

Soya Chunks and Soya Granules are a great way to incorporate soya nutrition into your diet. You can add them to soups, curries, and salads for added texture and protein. Soya chunks can also be used as a meat substitute in dishes such as stir-fries, kebabs, and burgers.
world of fortune soya granules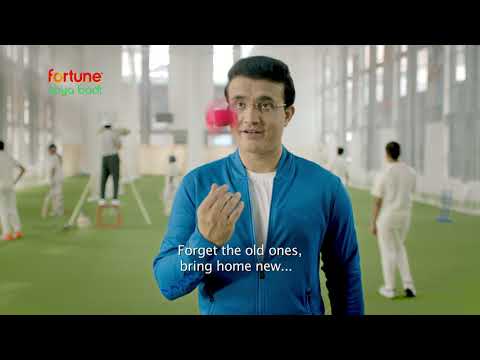 Switch to Fortune Soya Chunks | Protein-rich and Untouched by Hand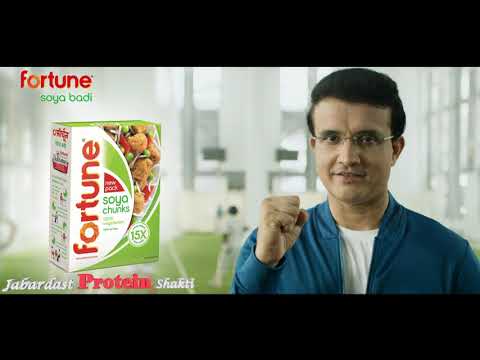 Making of Fortune Soya Chunks TVC with Sourav Ganguly | Fortune Soya Chunks
Soya Chunks
(AH) - Adani Wilmar Limited, Haldia
JL No. 149, Debhog, HPL Link Road, Haldia,Purba Medinipur 721657, West Bengal India
FSSAI Lic No. 10012031000073
(KF) - Khub Ram Foods (P.) Ltd, Kanpur
845, Kha Min Sachendi & 770 Sachendi Kanpur Nagar Kanpur Tahsil, Kanpur Nagar 208020, Uttar Pradesh India
FSSAI Lic No. 10021051000103
(VA) - Adani Wilmar Limited, Vidisha
Soya Complex, Sanchi Road, Vidisha 464001, Madhya Pradesh India
FSSAI Lic No. 10012026000265