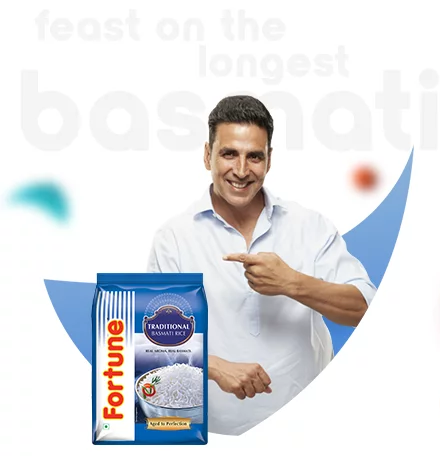 Add aroma of traditional basmati in your biryani!
Cultivated in the foothills of Himalayas, Fortune Traditional Basmati Rice has a unique aroma and earthy flavour which enhances the taste of your rice dishes. So, even dishes like plain rice become memorable.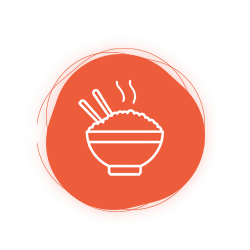 Original basmati aroma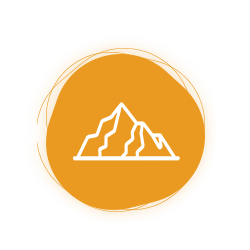 Sourced from pristine Himalayan foothills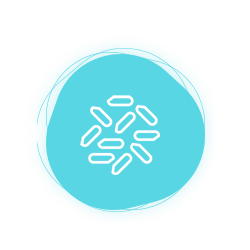 Long and slender grains
freshness of fortune traditional basmati rice in different sizes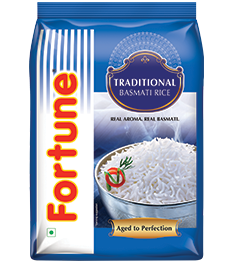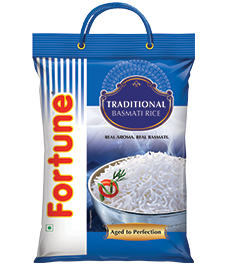 know your basmati rice
Frequent questions answered by those that bring you this product
What are the different types of rice?

There are numerous varieties of rice which can be classified based on Length, texture, color and aroma of the rice. But broadly, rice can be classified into 4 types, i.e., Brown rice, Organic rice, Basmati rice and non-basmati rice.

One of the most popular rice in India is basmati rice, which gets its name from its distinct sweet aroma. Basmati rice also comes in many varieties such as, rozana basmati rice, 1121 basmati rice, sella basmati rice, mini mogra basmati rice, mogra basmati

What is basmati rice?

The term basmati refers to "full of aroma", therefore basmati is a long grain aromatic rice, having a distinct sweet aroma that elevates the dishes made with it. It is grown traditionally in Indian subcontinent and only some places have a GI for basmati rice, these places include Punjab, Haryana, Himachal Pradesh, Delhi, Uttarakhand, Western Uttar Pradesh and Jammu & Kashmir.

What are the health benefits of basmati rice?

Basmati rice is generally lower in cholesterol and has several antioxidants, which makes basmati rice a healthy rice for daily consumption.

Is basmati rice a long grain rice?

Yes, generally basmati rice has a longer grain compared to other rice varieties. But this may vary, you can check out the Fortune range of basmati rice to see which one is best for you.

Why is basmati rice aged?

Some varieties of basmati rice taste best when aged. The aging adds a new layer and dimension of flavor to your rice dishes.

Can I use basmati rice for daily cooking?

Yes, of course! Cooking basmati rice need not be just for special occasions, some varieties of basmati rice are generally used for special occasions, but Fortune offers a wide range of basmati that can be used daily as well as for special days.

What pack sizes do Basmati rice come in?

Fortune Traditional Basmati Rice is available in 1kg pack and 5kg pack.

Why should you buy Fortune Traditional basmati rice?

Sourced from the pristine Himalayan foothills, Fortune Traditional basmati rice has a unique aroma and earthy flavour that enhances the taste of any rice dish you make with it. That's why we recommend using Fortune Traditional basmati rice.
Rice
(KN) - N.B Agrotech
Assandh Road, Chirao, Karnal 132001, Haryana India
FSSAI Lic No. 10817010000154
(AF) - Adani Wilmar Ltd
Vill Waan, Nr Saiyanwala Faridkot Road, Ferozepur 152001, Punjab India
FSSAI Lic No. 12119241000033
(AQ) - Adani Wilmar Ltd
Survey No.31/P1,33,34,35/1,36 & 37/1, Gandhidham- Mandvi Highway, Nr. Pragpar Chokadi. Vill:- Pragpar Ta:- Mundra, Dist. Kutch – 370421, Gujarat India
FSSAI Lic No. 10019021004690
(AU) - Adani Wilmar Limited
Udaypur, Mouza – Jaguram, Amrah, P.O. Reoare Gopalpur, Jamalpur.Purba Bardhaman, West Bengal 713166, West Bengal India
FSSAI Lic No. 12818022000260
(EI) - Ebro India Private Limited
Ebro India Private Limited, Vill. Takhana, G.T. Road, Tararoi, Dist. Karnal, Haryana. 132116, HARYANA India
FSSAI Lic No. 10013064000299
(GR) - Ghanshyam Rice Mill
Hariyanta.khambhat Dist. Anand 388620, Gujarat India
FSSAI Lic No. 10718004000373
(JK) - J.V. Agro Exports
Merrut Road, V.Dabraki, P.O Box Mohidinpur, Karnal – 132001, Haryana, India
FSSAI Lic No. 10822010000122
(KG) - Koppal Green Power Ltd
Chandan Halli Road Survey Nbr. 97, Kartagi,. Gangawati, Koppal 583229, Karnataka India
FSSAI Lic No. 11216321000008
(KM) - K.M.International
111 Milestone, Vill-kutail, karnal 132001, Haryana India
FSSAI Lic No. 10821010000027
(SL) - Sree Lakshmi Balaji Industries
SY. No. 441 – K Navali Road, Karatagi Gangavathi(TQ) Koppal 583229, Karnataka India
FSSAI Lic No. 11215321000031
(ST) - Sri Rama Modern and Para Boiled Rice Mill
SY No – 178 Saranpur Village, Nizamabad 503186, Telangana India
FSSAI Lic No. 13615009000241
(SS) - S.P SORTEX RICE EXPORTS INDIA PVT LTD
C-34, Industrial Area, Naini Prayagraj, State Name: Uttar Pradesh, Code: 09
FSSAI Lic No. 12714005000730
(SY) - SHRIYA RICE MILLS
Plot No 116 & 117, Industrial Growth Centre, Hyderabad Road, Wadloor Cross, Chikkasugur Village, Raichur, Karnataka -584134
FSSAI Lic No. 10017043001845